If you're looking for things to do in Da Nang when it rains, make sure to bookmark this page. Da Nang's monsoon season occurs between September and March, with rainfall coming in short bursts throughout the day. However, a little rain won't put too much of a damper on your vacation as the city offers plenty of museums and art galleries to spend a few hours in.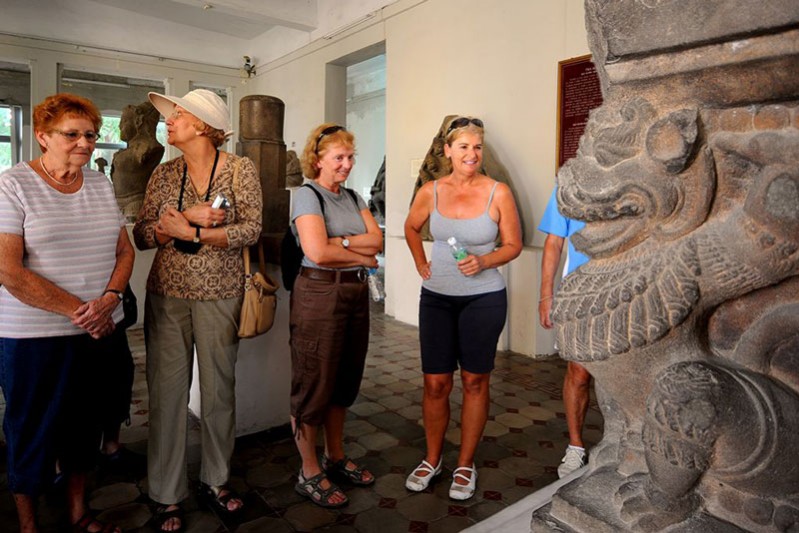 If you're travelling with children, the city also has several shopping malls with onsite entertainment such as cinemas, bowling alleys and arcades. From luxurious spa treatments to relaxing coffee sessions at a quaint cafe, read on to discover some of our favourite rainy day activities in Da Nang.
1. The Museum of Cham Sculpture in Da Nang
The Museum of Cham Sculpture was founded during the colonial French rule in 1915. It houses numerous artefacts dating back to Vietnam's Champa era. Many of the exhibits are considered masterpieces of their era and are showcased according to the region in which they were found in a total of ten separate interior exhibition rooms. All of the sculptures on display fall into one of the following categories – icon, pedestal, pediment, or fragment, with the area in which they were found determining where they are exhibited. The museum also has an onsite cafeteria and gift shop selling imitation pieces and English-language guidebooks.
Opening Hours: Daily 07:00 – 17:00
Location: 02, 2 – 9 Street, Da Nang City
Price Range: VND 60,000
2. Joining cooking classes in Da Nang
Joining a cooking class in Da Nang is a perfect activity for those rainy days as you can make the most of your precious holiday picking up some new culinary skills. Many five-star resorts and hotels in Da Nang offer Vietnamese cuisine classes, but if you prefer a more authentic experience many tour companies can arrange for a session with a local family within the city. Depending on the weather, you may get to visit a local market and/or farm to shop for fresh produce before your cooking class begins. Hotel pickup, ingredients and equipment are usually included in the package.
3. Arts in Paradise Da Nang
Arts in Paradise Da Nang is an internationally-acclaimed museum with over 150 bold and realistic paintings. Spanning 4,000 square metres, it's divided into nine zones, namely, Main Hall, Safari, Ancient Egypt Optical, Active, Fantasy, World, Classic, and Aqua. Visitors can spend hours taking entertaining photos of each other at this interactive museum. Open daily, tickets are priced at VND 200,000 for adults and VND 100,000 for children. Opening Hours: Daily 09:00 – 22:00 Location: Lo C2-10 Tran Nhan Tong, Son Tra, Da Nang Tel: +84 97 487 2077 Price Range: VND 200,000 (adults) & VND 100,000 (children).
4. Spend a Few Hours at a Café or Bar
Cafes and bars can be found throughout Da Nang City, making them great spots to unwind any time of the year. Some of the most popular cafes in Da Nang are set along the Han River where you can enjoy beautiful views of landmarks such as Dragon River Bridge and Marble Mountain. You can spend a few hours savouring hot coffee, cakes, and pastries with a book in hand. In the evening, Da Nang's riverfront bars offer affordable booze and western snacks, as well as live entertainment until late.
5. Visit Da Nang's Shopping Malls
Da Nang's shopping malls may seem miniscule compared to those found in Ho Chi Minh City and Hanoi, but you still get to enjoy some good bargains during your holiday. Many of these shopping centres have entertainment on offer with cinemas and arcades, so you can easily spend several hours here during the rains rather than being confined inside your hotel room. Do note that goods here are sold at fixed rates, so save your bargaining skills for when you're exploring Da Nang's local markets.
Read more at: http://www.vietnam-guide.com/da-nang/top10/things-to-do-when-rain.htm?cid=ch:OTH:001