If you are visiting Da Nang, one of the city's most anticipated attractions is the spectacular Dragon Bridge spitting fire. It's no wonder that many tourists ask, "What time does the Da Nang Dragon Bridge spit fire?" during their trip to this beautiful coastal city.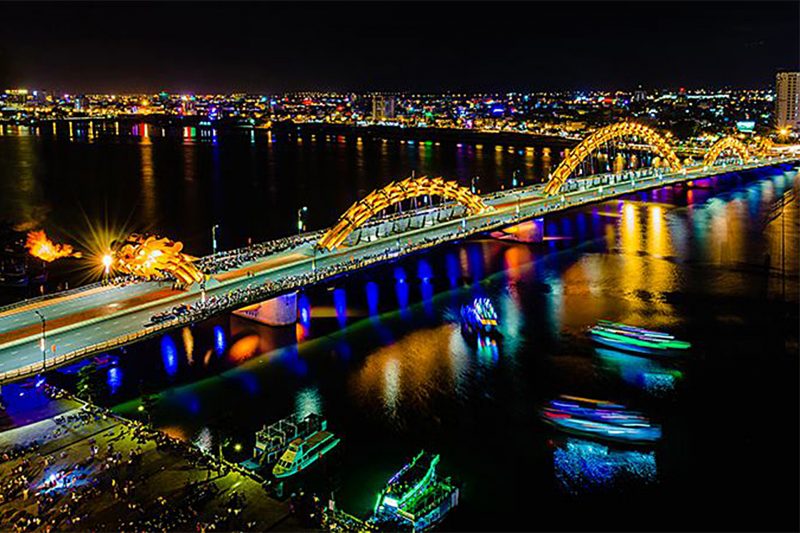 After several updates, Da Nang has now confirmed the time for the Dragon Bridge to perform its magnificent fire and water display. The show takes place every Friday, Saturday, Sunday, and major holidays of the year at 9:00 pm. This time frame is perfect for everyone, including children, to enjoy the unique beauty of the Dragon Bridge spitting fire and spraying water.
During the show, which takes place on Friday, Saturday, and Sunday, the Dragon Bridge will spray fire and water simultaneously, with fire first followed by water. The bridge spits fire two times, each turn nine times (for a total of 18 times) and sprays water three times, once each time.

Watching the Dragon Bridge spitting fire and spraying water is one of the most interesting things you can do during your visit to Da Nang. To ensure you don't miss out on this unforgettable experience, plan your schedule around the above time frame. And while you're at it, be sure to share your experience of watching the Dragon Bridge with others!
In addition to the Dragon Bridge, the Han River Bridge in Da Nang also puts on a weekly show on Saturdays and Sundays, offering even more entertainment for tourists and locals alike.