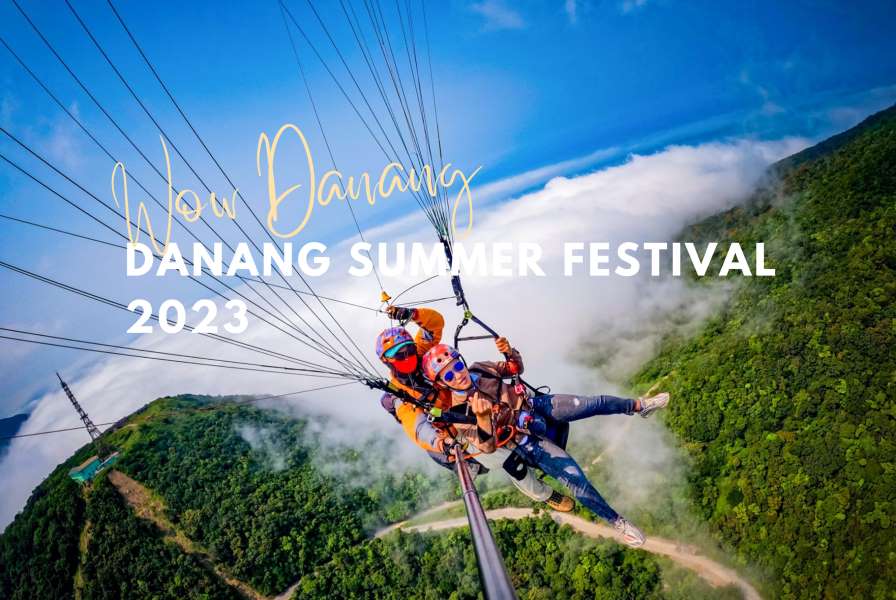 On July 7, 2023, the Da Nang Department of Tourism announced the Enjoy Danang Summer Festival 2023 – "Wow Danang" series. This annual event aims to diversify and promote sea-based tourism products while offering exciting and impressive activities for both tourists and locals during the summer season. The festival will take place from July 28th to August 1st, 2023, and here are some notable activities:
Enjoy Danang Summer Music Festival 2023: This event will be held on July 28th at Bien Dong Park. It features gifted singers and renowned artists, along with paragliding performances on the beaches, creating an unforgettable experience.
International – Vietnamese Food Festival: Taking place from July 28th to August 1st, this festival offers more than 50 booths showcasing local, regional, and international cuisine. Visitors can enjoy famous dishes such as Quang noodles, Banh xeo (Vietnamese pancakes), Cao Lau noodles, Pho, and various street food. There are also spaces dedicated to traditional cake-making experiences and traditional craft villages.
Kite Show: The festival includes a kite show featuring over 30 aerodynamic kites, including uniquely shaped flute kites.
Paragliding Performances: Throughout the festival, there will be paragliding performances with more than 10 paragliders soaring above Bien Dong Park, adding a colorful and captivating element.
Zumba Flashmob and Bikini Flashmob by Kids: These events bring an exciting atmosphere with Zumba dances and adorable images of children, attracting both locals and visitors to join in the fun.
Danang Paragliding Open: This professional paragliding competition takes place on July 29th and 30th at Ban Co Peak, Son Tra Peninsula, Man Thai Beach, and Pham Van Dong Beach. It showcases skillful technical performances while offering breathtaking views of Danang from above.
Sea Festival: Organized on July 29th at Ha Khe Park, this festival features various games such as carrying-fish relay, shaking "thing," sand rowing, and tug of war underwater. There are also local community performances and the opportunity to participate in the Beach Cleanup Day program called "Green Ocean" at Nam Xuan Thieu Beach.
Check-In Spaces: Visitors can capture impressive moments at the check-in spaces located in Bien Dong Park and Ha Khe Park. These areas feature unique decorative models like jellyfish lamps, "thung" (traditional baskets), and surfboards.
Art Performances: Throughout the festival, there will be a series of art performances at Bien Dong Park and Ha Khe Park. These performances include an Ao dai show called "Colors of Da Nang Summer," a fashion show named "Fairy Dance," a music show titled "Colors of the Sea," traditional art shows, as well as performances by DJs, dance groups, and rappers.
Street Performances: Every weekend evening, starting from 7:00 PM, there will be street performances on both sides of the Han River. These performances include street music, "Bai choi" games and performances, wind instrument performances, and youth playgrounds featuring folk dance, street dance, and hip hop.
Enjoy Danang Summer Tour Program: In conjunction with the festival, Danang tourism enterprises have launched the "Enjoy Danang Summer" tour program. It offers attractive incentives and various tour options such as food tours, Danang night tours, summer tours, and check-in tours.
Additionally, other tourist attractions in Da Nang have refreshed their offerings for visitors during this period, including Ba Na Wow Summer Festival, B'festival Food and Beer 2023, Korean-French Cultural Week, and various activities at Mikazuki Japanese Resorts & Spa.
The Enjoy Danang Summer Festival 2023 – "Wow Danang" aims to become a unique and specific cultural and tourism event at the city level. It will be held annually to create new tourism products, attract domestic and international tourists, and contribute to making Da Nang a leading destination for festivals and events.